Regular price
Sale price
$42.00 USD
Unit price
per
Sale
Sold out
We partnered with our friends at Saint Apothecary to bring to you Evil Bone Water for deep tissue relief. Evil Bone Water is a deep-penetrating herbal topical formula designed to help relieve pain and help healing by penetrating through your muscles, ligaments, and bones. It is fantastic for dense tissues such as thighs and glutes, and for general pain relief, reducing swelling and bruising; and promoting blood circulation.
Evil Bone Water can also be used together with Dragon Blood Balm to synergistically to stop pain and accelerated healing. 
Each order includes one spray-top attachment. 

(More Information Below)
View full details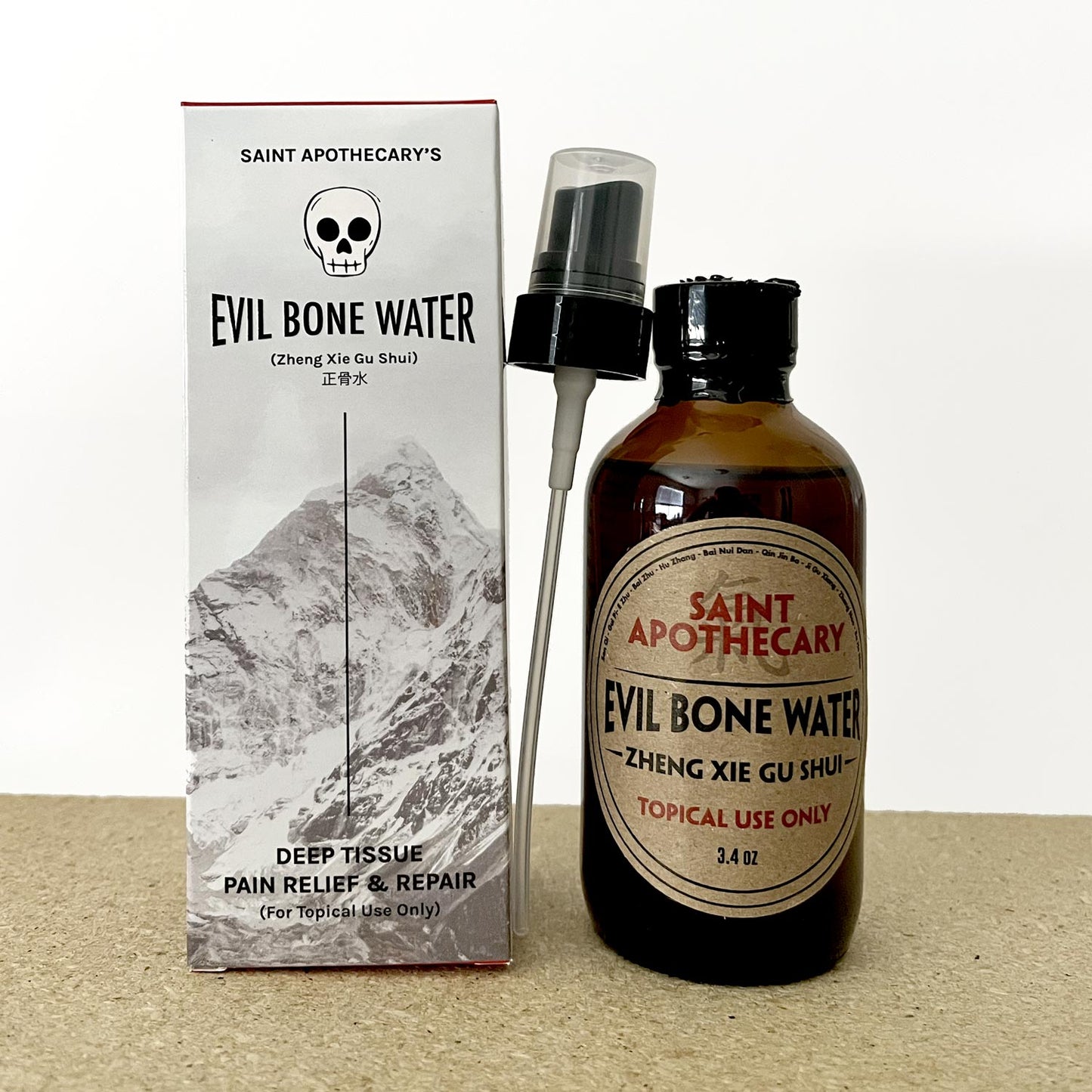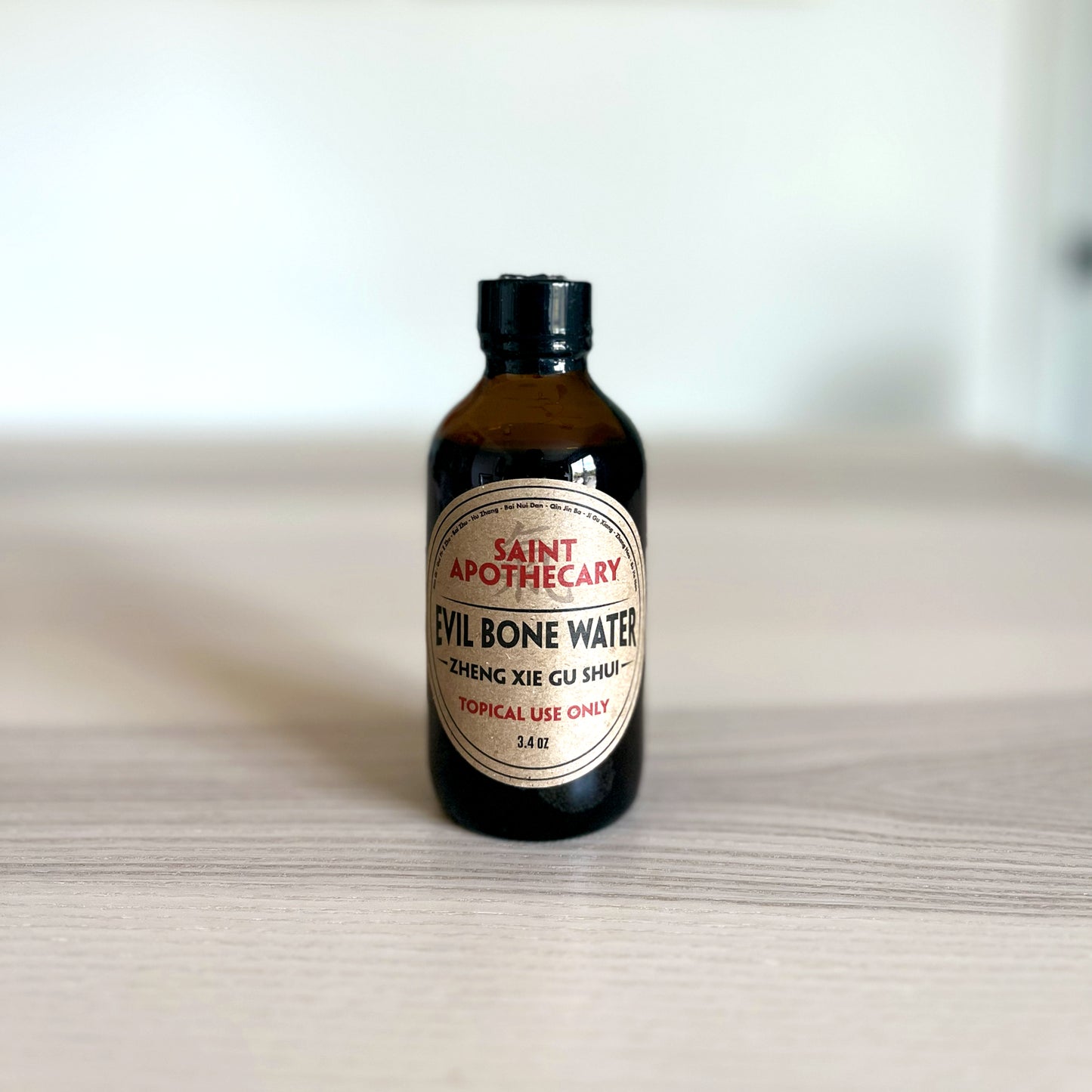 The Important Details
About Evil Bone Water

Evil Bone Water is the premier version of Zheng Xie Gu Shui, a deep-penetrating herbal topical formula. It provides fast, lasting pain relief; reduces swelling and bruising; promotes blood circulation; and is even traditionally used to speed the healing of broken bones. It's also highly effective for dense muscles such as thighs and glutes.
Ingredients

Evil Bone Water Ingredients

· Notoginseng (Pseudoginseng / San/Tian Qi)
· Cinnamon Bark (Gui Pi)
· Zedoary Rhizome (Rhizoma Curcumae | E Zhu)
· Atractylodis Macrocephalae Rhizoma (Bai Zhu)
· Knotweed Rhizome (Hu Zhang)
· Inula Cappa DC (Bai Niu Dan)
· Philippine Flemingia Root (Qian Jin Ba)
· Scutellaria Root (Radix Scutellariae Baicalensis | Huang Qin)
· Camphor (Zhang Nao)
· Plant-Derived Menthol Crystals (Bo He Nao | Herba Menthae Pipperata)
· Everclear 190 Proof Alcohol Base

---

We don't use any parabens, sulfates, phthalates, silicones or aluminum.

All of our products are 100% cruelty-free.
How to Use It

Evil Bone Water:

Apply to affected area using a cotton swab or spray on with included attachment. Rub in. Apply daily or as needed.

Can be used with Dragon Blood Balm. Apply Dragon Blood Balm on top of affected area after spraying with Evil Bone Water.
Smells Like

We use aromatic herbs + oils that create a unique earthy and root-y smell. Because we use fresh ingredients, the smell is how you know you're getting the good stuff!
Shipping

· Usually ships within 3-5 days
· Free shipping (within the US on orders over $45)
· International shipping available
· All of our shipping is now carbon-neutral. We offset every order with donations into carbon-removal and storage, calculated by the equivalent shipping emissions each order generates.
Size

Each bottle of Evil Bone Water is 3.4oz. This allows it to be TSA-friendly for travel.
Deep, Penetrating Relief
Based on the traditional Zheng Xie Gu Shui formula (which translates to "Broken-Bone-Righting Formula"), Evil Bone Water is equally popular amongst martial arts practitioners, athletes, grandparents, and anyone seeking long-lasting and deep-penetrating pain relief.
Evil Bone Water is great for:
· Arthritic pain
· Back pain
· Deep-tissue pain relief
· Treatment for arthritis, sports injuries, sprains, strains, soreness and cramps
· Promoting blood circulation, reducing bruising and swelling
· Speeding tissue recovery
Also Available:
Regular price

From $60.00 USD

Regular price

$65.00 USD

Sale price

From $60.00 USD

Unit price

per

Regular price

$32.00 USD

Sale price

$30.00 USD

Unit price

per
Great For:
Healing Injuries

... and providing pain relief. Great for sports injuries, sprains, strains, soreness, bruising, swelling, bug bites, and broken bones.

Training & Preventative Care

Useful as a "prehab" to avoid injuries, speeding recovery after regular activities.

Rehab & Chronic Issues

Helps with blood circulation, and pain reduction, and is great for overuse issues, arthritic pains, back pain, and more.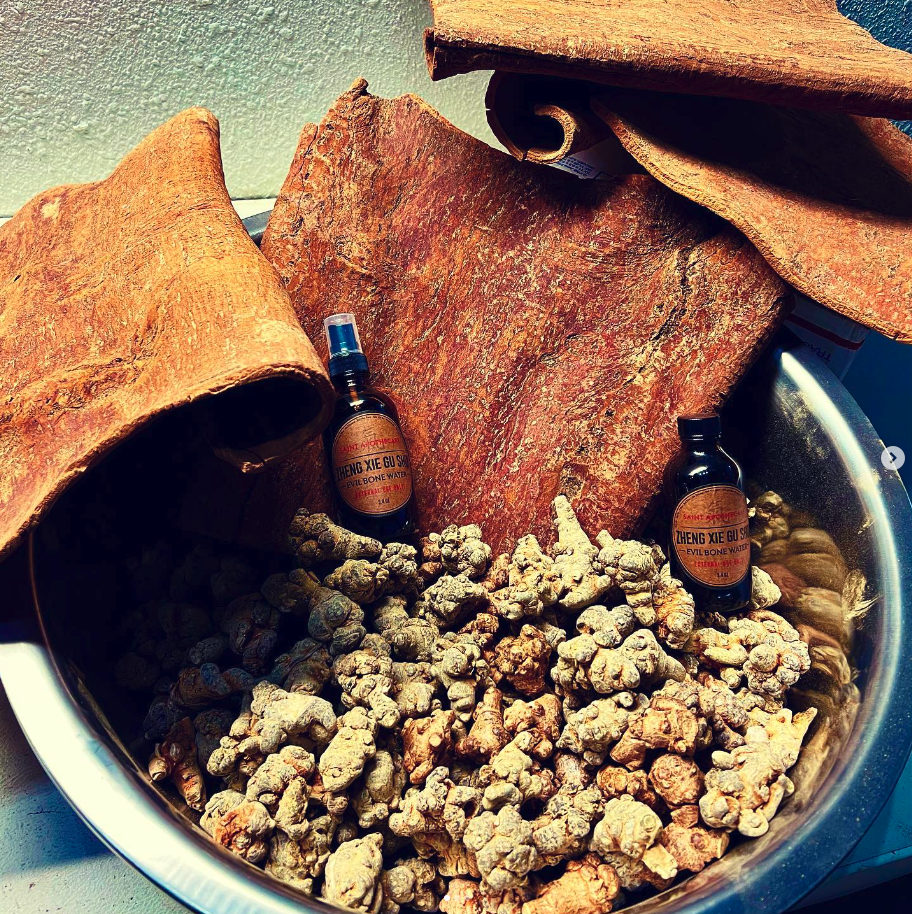 Freshly Made in the USA
Evil Bone Water is proudly made in the USA by Saint Apothecary using the highest quality ingredients. Each step of the production process is conducted on United States soil, so that the team can guarantee each bottle of EBW meets our high standards. Saint Apothecary is a proud member of the Veteran Owned Business Project.
Regular price

Sale price

$20.00 USD

Unit price

per

Regular price

Sale price

$23.00 USD

Unit price

per

Regular price

$0.00 USD

Sale price

$23.00 USD

Unit price

per
---
DISCLAIMER: These statements have not been reviewed or evaluated by the Food and Drug Administration. These products and statements are not intended to diagnose, treat, cure or prevent disease. If you are not familiar with these ingredients, we recommend consulting a doctor or other experts to understand how they might affect you or interact with other products and drugs. Research on ingredients can be provided upon request. While non-toxic, Dragon Blood Balm™ is not recommended for use on pregnant women; in those that have a heart condition or history of heart conditions; on children or those under 18 years of age; if one is taking blood-thinning medications; or for those with liver conditions.

Dragon Blood Balm™ contains powerful herbs and concentrated oils -- some people may experience allergic reactions. If you notice any abnormal skin reactions, please discontinue use. Seek professional medical attention if necessary. Dragon Blood Balm™ is intended for external use only. Do not use Dragon Blood Balm™ on open (bleeding) wounds. The makers of Dragon Blood Balm™ are not responsible for misuse, abuse, or use of this product outside of recommended applications.

Both Dragon Blood Balm and Evil Bone water are intended for topical use only. Do not ingest!